Wedding Rings
We specialise in wedding rings and are proud of our inspiring selection which includes all precious metals such as 9ct and 18ct yellow, white and rose gold. Palladium 500 and 950, Platinum, silver and also stock a vast selection of titanium. Whichever wedding ring a customer chooses can be patterned, diamond set and personalised to provide you with a truly unique wedding ring.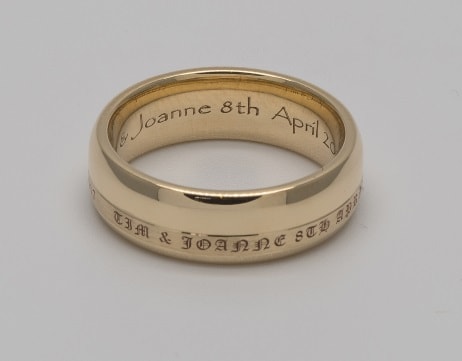 A 9ct yellow gold 6mm cushion court wedding ring with a matte gold inlay. Personalised with laser engraving to the customers requirements and font choice.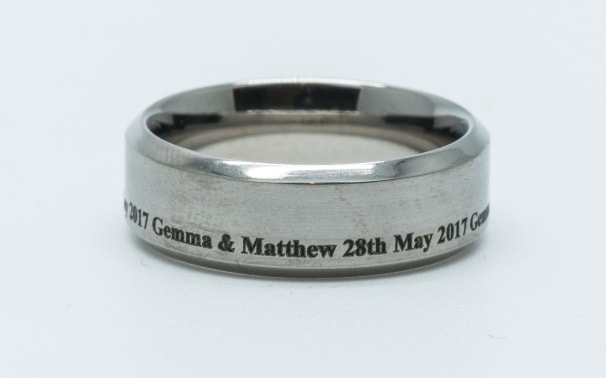 A titanium 7mm flat band with a matte centre and shiny bevelled edges. Personalised with laser engraving to one edge as customers specifications.

A selection of 9ct white, rose and yellow gold Celtic and scroll open design wedding rings ranging from 4mm in width to 6mm.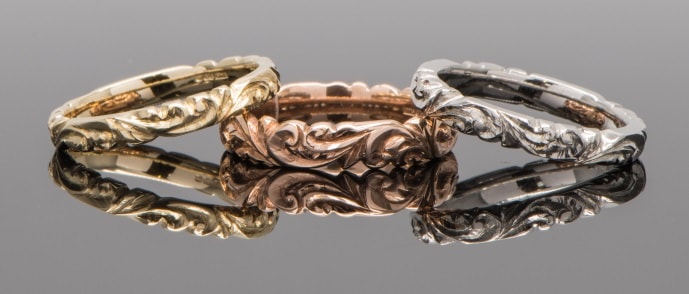 9ct yellow, rose and palladium hand engraved scroll solid wedding rings in 3mm and 4mm widths.
A small selection of our hand engraved and diamond cut patterns, these can be created on any precious metal and width wedding ring.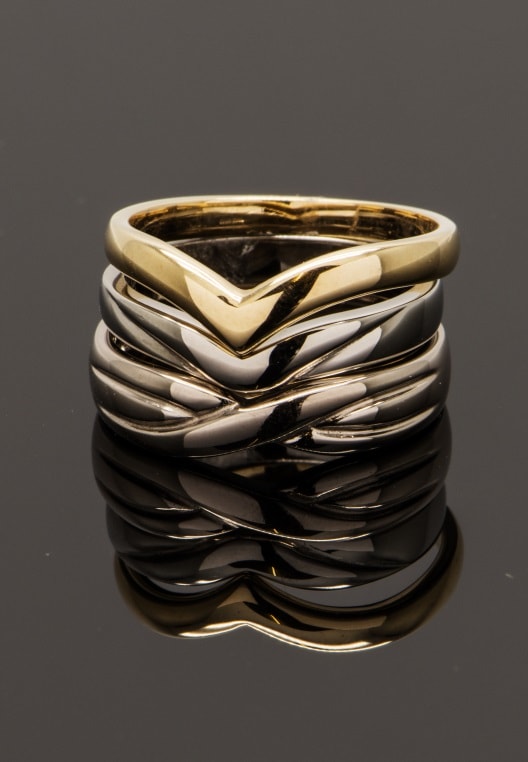 Palladium, 9ct yellow and white shaped wedding bands. Shapes include wishbone and crossover designs.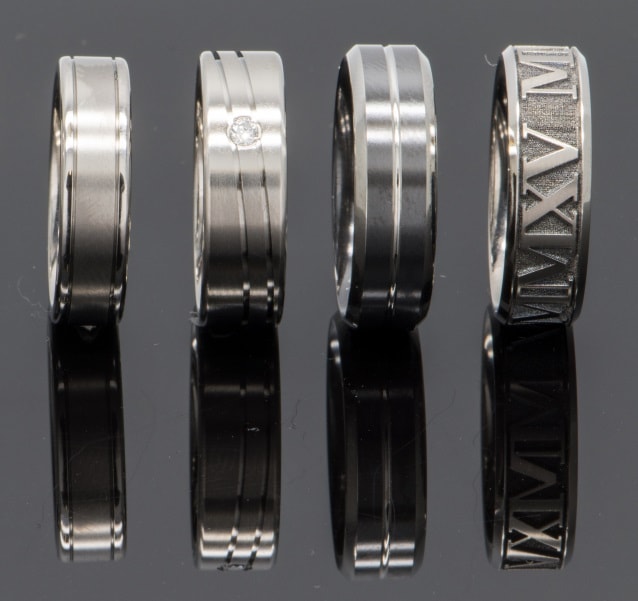 A snapshot of some of titanium bands we stock. The titanium rings can be left plain, laser engraved with personalisation, diamond set or can be made in Black zirconium. They can also be made in any width and finger size at no extra cost unless you decide to go wider than 7mm or are above a finger size Z.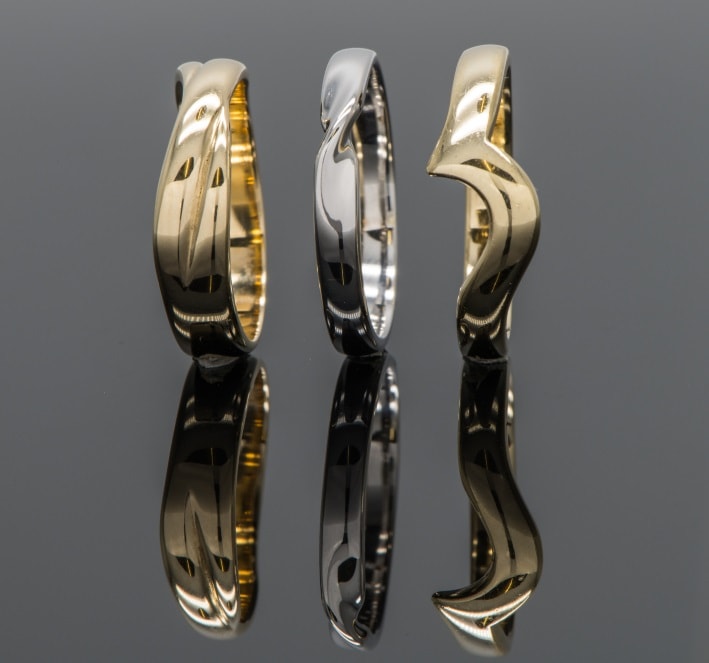 A few more of our standard shaped wedding rings. If your engagement ring doesn't sit right with any of our stock ones we can make you a perfect shaped to fit no matter how unusual your engagement ring is.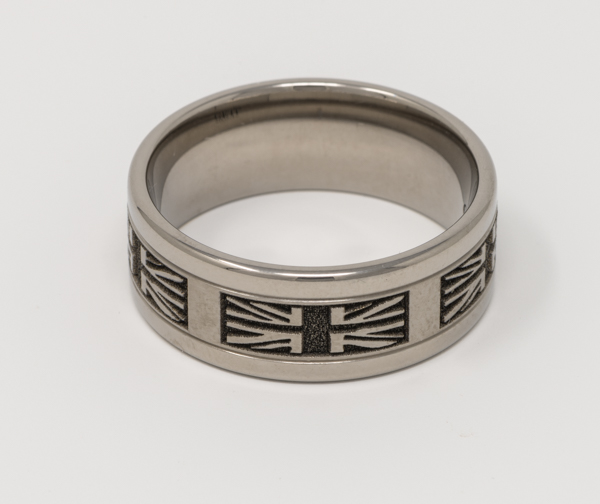 This wedding ring is a titanium 9mm, flat band circled with the flag of Great Britain which are laser-engraved. It has a matte centre with shiny edges.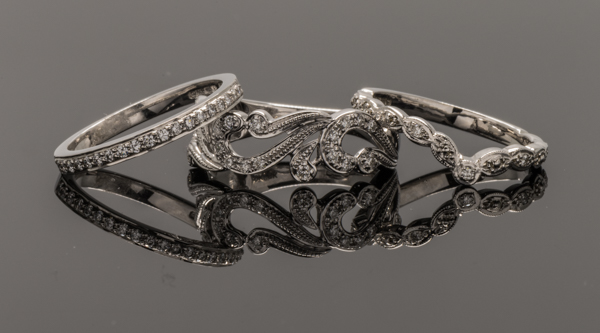 An 18ct white gold grain set diamond wedding ring, a 9ct white gold open scroll, diamond set band and a 9ct white gold scalloped, diamond set wishbone wedding ring.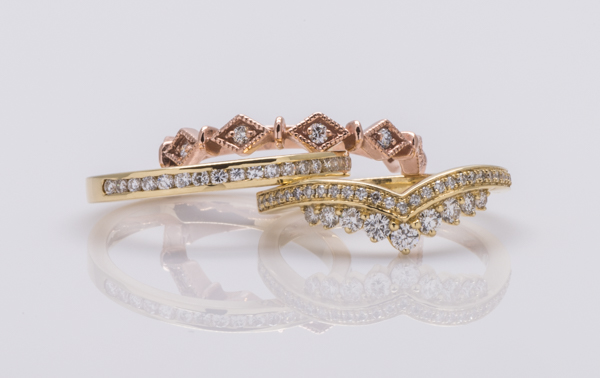 An 18ct yellow gold channel set diamond ring, a 9ct rose gold diamond, antique design wedding band and an 18ct yellow gold diamond set tiara, wishbone wedding ring.